Books Like
Limoncello Yellow
By Traci Andrighetti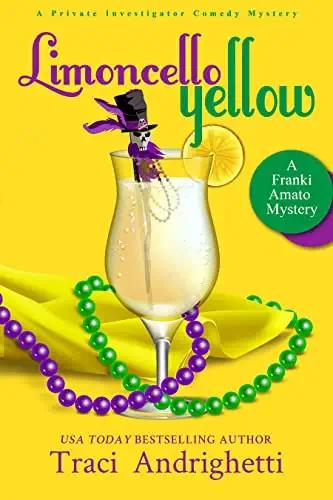 As an Amazon Associate, we earn from qualifying purchases.
Learn more
.
Blurb
Official blurb by the publisher.
Franki's first Mardi Gras is murder…
Francesca "Franki" Amato is a straight-shooting rookie cop in Austin, Texas, until an embarrassing 911 call prompts her to take a job at her best friend's PI agency in New Orleans. But Franki soon learns that solving crime in The Big Easy is no Bourbon Street party. Case in point, her first investigation involves the murder of a beautiful boutique manager who was strangled with a cheap yellow scarf, and her primary suspect is her client. When Franki's not on the clock, she hopes to get cozy with a handsome bank executive named Bradley, but her meddlesome Sicilian nonna has other ideas about who she should date. As Mardi Gras approaches and the boutique mystery deepens, Franki must decipher the odd ramblings of a voodoo priestess, or she could end up single—and the next strangling victim.
Limoncello Yellow is book 1 in the Franki Amato Mysteries, but it can be read as a standalone. If you like zany characters and laugh-out-loud humor with a splash of suspense, then you'll drink up this fun series by USA Today Bestselling Author Traci Andrighetti. Cheers!
FRANKI AMATO MYSTERIES:
Limoncello Yellow (book 1)
Prosecco Pink (book 2)
Amaretto Amber (book 3)
Campari Crimson (book 4)
Galliano Gold (book 5)
Marsala Maroon (book 6)
Valpolicella Violet (book 7)
Tuaca Tan (book 8, coming in the fall of 2022!)
To find out what Franki's up to between the books, join Traci's newsletter at traciandrighetti.com to get the Franki Amato Mini Mysteries for FREE!
"Andrighetti's dialogue is genuine yet uproarious, and her glowing characters animatedly leap off the page. Her sparkling wit keeps the hijinks brimming with merriment."
~ Long Island Book Reviews
"Traci Andrighetti's Franki Amato Mysteries have me tickled pink! Her smart, sassy heroine, wacky cast of characters, and vividly original settings had me glued to the page. I can't wait to read more from this author!"
~ Gemma Halliday, New York Times bestselling author
"Traci's writing is sharp and funny; the world she paints leaps off the page and makes the reader laugh out loud…. A thoroughly enjoyable voice in fiction!"
~ Kristin Harmel, New York Times bestselling author