Books Like
Will Save the Galaxy for Food
By Yahtzee Croshaw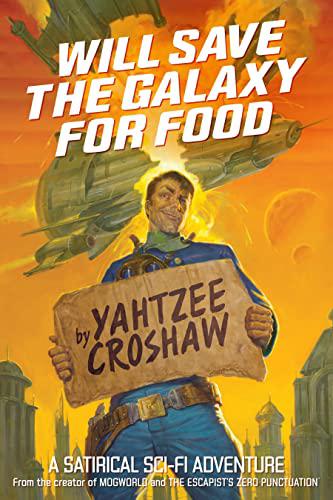 As an Amazon Associate, we earn from qualifying purchases.
Learn more
.
Blurb
Official blurb by the publisher.
A not-quite epic science fiction adventure about a down-on-his luck galactic pilot caught in a cross-galaxy struggle for survival!
Space travel just isn't what it used to be. With the invention of quantum teleportation, space heroes aren't needed anymore. When one particularly unlucky ex-adventurer masquerades as famous pilot and hate figure Jacques McKeown, he's sucked into an ever-deepening corporate and political intrigue. Between space pirates, adorable deadly creatures, and a missing fortune in royalties, saving the universe was never this difficult!
From the creator of Mogworld and Jam! Benjamin Richard "Yahtzee" Croshaw is a British Australian comedic writer, video game journalist, author, and video game developer. He is perhaps best known for his acerbic video game review series, Zero Punctuation, for The Escapist.