Books Like
Cute Mutants
By SJ Whitby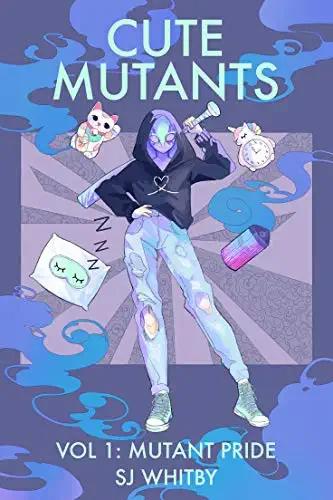 As an Amazon Associate, we earn from qualifying purchases.
Learn more
.
Blurb
Official blurb by the publisher.
HAPPY PRIDE! There's never been a better time to jump on board the Cute Mutants series. Somewhere between X-Men and Birds of Prey, but gayer than both, where comedy, feels and action collide in neon chaos.
My name is Dylan Taylor, human incarnation of the burning dumpster gif, and this is my life. I always wanted to be an X-Man. Except people and me never got along, and apparently you need social skills to run a successful team. Cue Emma Hall's party. One hot make out session with the host herself, and I can talk to objects like my pillow (who's far too invested in my love life) and my baseball bat (who was a pacifist before I got hold of him). Now there's a whole group of us with strange abilities, including super hot ice queen Dani Kim who doesn't approve of how reckless I can be. The bigger problem is a mysterious mutant causing unnatural disasters, and we're the ones who have to stop him. Except trying to make a difference makes things blow up in my face and the team's on the verge of falling apart. Can I bring them back together in time to stop the villain from taking revenge? Have I mentioned I'm not a people person? Magneto help us.
The Cute Mutants series somehow managed to mutate my jet black heart into a pink sparkling emoji. Readers will come for the quirky superpowers and electric world that SJ has created, but they will stay for the characters. Amongst the killer fight scenes and nail-biting tension is a poignant and tender story of friendship, belonging, being accepted, and most of all loved exactly as you are. Pronouns, foul-mouth words, talking pillows and all.
Melody Robinette, YA fantasy author
"Cute Mutants is a wild electric joyride from start to finish - burning dumpster gifs and all. S.J. Whitby writes the superhero genre at its best, with thrilling, vivid fight scenes, voice-y high school angst, and queer found family that grabs you by the throat. Armed with grit, guts, and a baseball bat, Dylan Taylor is the fierce, sharp-witted protagonist of my dreams. When she wakes up with superpowers after kissing a girl at a party, Dylan trades her backpack and textbooks for a fierce mutant squad of her own - where every day's a battle and survival isn't guaranteed. This series is a queer, rainbow-glitter explosion of subverted tropes and fast-paced action that leaps from the page straight into your heart."
Jenna Voris, author of Made Of Stars